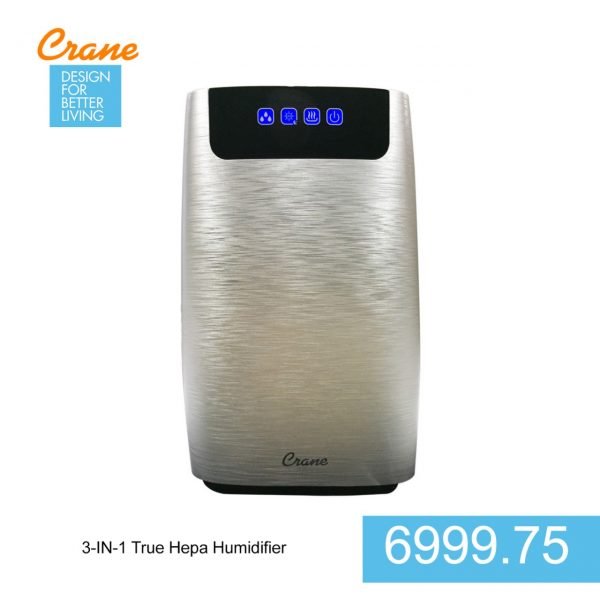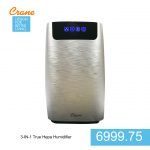 Crane – 3-IN-1 True-Hepa Humidifier – Warm & Cool Mist
₱6,999.75
• Provides relief coughs, colds, sinus irritation and other effects caused by dry air while contaminants from the air
• Relieves cough, cold, and flu symptoms, as well as nasal congestion, dry cough, sinus irritation, nose bleeds, and dry skin and hair
• Recommended non-medicated alternative to over the counter cough and cold medicine
• Ultrasonic cool mist increases moisture in the air for easier breathing and a good night's sleep
• WARM MIST – Relieves coughs & colds caused by cold, dry. Neutralizes airborne bacteria, mold spores and viruses.
• COOL MIST – Helps keep nasal passages, sinuses, and skin hydrated in hot, dry weather.
• Auto-Off function activates when water tank is empty
• GERMICIDAL – UV light Helps reduce viruses, bacteria, fungi, mildew and mold spores
• PROTECTION – True-hepa removes up to 99.7% of airborne pacticles and germs
• ULTRA-EFFICIENT, LONG-LASTING DESIGN – The Crane – 3-IN-1 True-Hepa Humidifier – Warm & Cool Mist is the best of the best. Equipped with a large      5L tank, 360 degree rotatable nozzles and dual mist output with night light feature, this 3-IN-1 True-Hepa Humidifier can humidify & purify rooms up to 500 sq    FT! One tank will last for      up to 24 hours of continuous use.
• WASHABLE PARTICLE FILTER – Which effectively removes limescale & heavy metal ions in hard water allowing cleaner, finer & safer mist spraying
• AROMA TRAY (for use with your favorite essential oils)
Support
Additional information
| | |
| --- | --- |
| Weight | 3.088 kg |
| Dimensions | 21.3 × 28.5 × 41.3 cm |